First Impressions Start Online
People in your community are searching for a church every day. But they aren't checking out your service, they're checking out your website first. 80% of first-time visitors visit your website before they set foot in your church. Source 
Unfortunately, most churches fail the first time impression online, resulting in many people not taking the next step to visit. The good news is it doesn't have to be that way. That's why we started Mission Creative.
Mission Creative is a digital missions agency for organizations based in Columbus, Ohio. Serving over 150+ organizations since 2011.
Websites That Inspire A First Time Visit
We create the online front door of your organization that positions you in your community to stand out and tells your story. Every detail and design is built to look amazing on any device and bring you in front of your audience on every time.
Apps That Go With Your Audience
Wherever They Are
With the #1 church engagement tool on the planet, you'll be able to communicate with your community and grow your church throughout the week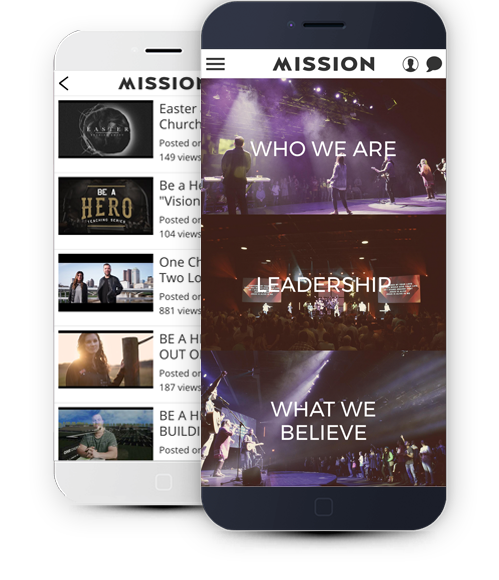 Everything Else You Need To Get Noticed And Be Remembered
We save you money and time without the need to hire a creative director for you organization. We do everything in ONE place and we'll ALWAYS be here.
Logo Design
We'll design a brand for your organization that people will love.
SEO
Get found online faster. We'll help you be seen on search engines.
Sermon Graphics
We'll handle all your ongoing message, event and social media graphics with quick turnaround.
Social Media Management
From status updates to audience building we have everything covered to save you time.
Facebook/Google Ad Management
Build engaging custom campaigns that bring you more first time guests to your website and your church.
Online Giving
Easy to use, safe and secure we have the best online and in in-app giving on the planet.

"The process was extremely efficient and beyond our expectations! We love having an app were we can highlight our message series, videos, online giving and more. If you're looking for a great app for your church look no further! Mission is awesome!"
Micah Pelkey / Lead Pastor / Storyside Church

"Our website went to a whole new level once they got a hold of it. Their team was very easy to work with and we always had an open line of communication. They made themselves available when I had questions and made sure I felt good about every change before it happened."
Kyle Hammond / Lead Pastor / Adventure Church

"If you are looking for some awesome, knowledgeable people to work with, these are the guys I highly recommend. Their friendliness and result-driven approach is what I love about them."
Justin Ross / Lead Pastor / Impact City Church
Get our monthly newsletter
Stay up to date with the latest articles, videos and marketing trends